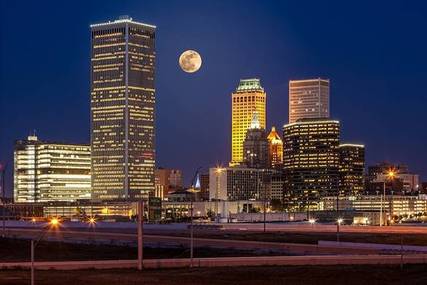 What to do In Tulsa.Welcome to the Greater Tulsa Metro Area! We know you'll have a full weekend of football ahead of you, but hopefully, you'll find some time to explore the Tulsa area during your trip to the Sooner Classic.
Whether you prefer shopping, dining, visiting museums or parks, Tulsa has something for everyone.
Within a two-mile radius of the championship venue
-- Union Tuttle Stadium --
you'll find shopping at Woodland Hills Mall
, a variety of
dining options
including
Texas Road House
,
Carrabba's Italian Grill
,
Abuelo's
(Mexican),
El Chico's
(Mexican),and
Zio's Italian Kitchen just to name few.
Additionally, should you finish up early on Saturday, you could take in a movie at the
Cinemark of Tulsa,
which includes a 12 screen theater and the
Imax.
Whatever you you enjoy doing with you downtime there's a good chance you'll find something you enjoy doing during your visit to Tulsa!
---
Local Attractions & Shopping

South Tulsa has numerous shopping and other attractions to visit while you here for the Sooner Classic Championships. Below are several, which are close to the Sooner Classic Championships venues.

And certainly, if time allows, get out and explore the Tulsa area as there's lots to do and see! Check out the

Visit Tulsa Guide

for additional information. There's no doubt you will love the Tulsa Metropolitan Area.

Laser Quest

2909 S. Sheridan Rd, Tulsa, OK

(918) 663-5551

Malls/Shopping Centers : Museums

MALLS/SHOPPING CENTERS

Woodland Hills Mall

7021 S Memorial Dr, Tulsa, OK

(918) 250-1449

Utica Square Shopping Center
1838 Utica Square, Tulsa, OK
(918) 748-9353Promenade Mall
4107 S Yale Ave, Tulsa, OK
(918) 627-9224

MUSEUMS

Philbrook Museum of Art

2727 S Rockford Rd, Tulsa, OK

(918) 749-7941

Gilcrease Museum Shop
1400 N Gilcrease Museum Rd, Tulsa, OK
(918) 596-2700Oklahoma Jazz Hall of Fame
322 N Greenwood Ave, Tulsa, OK
(918) 596-1001Tulsa Air and Space Museum
7130 E Apache St, Tulsa, OK
(918) 834-9900

Restaurants & Dining

Below you'll find several places to sit down and enjoy a great meal, great atmosphere, and friendly people. To that add, all the restaurants below are located with a two-mile radius of Union Tuttle Stadium--the venue for the '14 Sooner Classic Championship Games.

Additionally, you'll find plenty of fast food restaurants in the area to choose from including

McDonalds

,

Taco Bueno

,

Taco Bell

,

KFC

,

Arby's

,

Wendy's

and numerous

Pizza

establishments to choose from as well.

Again, Welcome to Tulsa and Enjoy Your Stay. We're glad you're here!

Texas Roadhouse
11111 E 71st St, Tulsa, OK
(918) 461-8891Zio's Italian Kitchen
7111 S Mingo Rd, Tulsa, OK
(918) 250-5999Mazzio's Pizza
6002 S Memorial Dr, Tulsa, OK
(918) 664-4444Dave & Busters
6812 S. 105th East Ave, Tulsa, OK
(918) 449-3100Pizza Depot
9624 E 61st St, Tulsa, OK
(918) 280-9000

Hotels & Accommodations